Tuna Pasta with Tomato & Vegetables Sauce
Serves 2 person
| | |
| --- | --- |
| Ingredient | Quantity |
| Alce Nero organic tomato sauce with vegetable | 700g/2 bottles |
| Alce Nero organic extra virgin olive oil | 3 tbsp |
| Alce Nero organic balsamic vinegar | 1 tbsp |
| Red pepper, chopped | 1 |
| Garlic, chopped | 2 cloves |
| Salt | 1 tsp |
| Freshly ground black pepper | 1/2 tsp |
| Dried oregano | 1/4 tsp |
| Alce Nero organic fusilli | 250g/1 pack |
| Fresh raw broccoli florets | 350g |
| Canned tuna chunks in olive oil, drained | 185g |
Here's the ingredients you are using: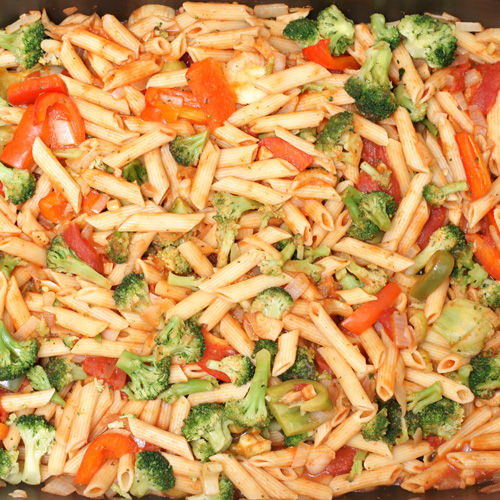 Combine all ingredients, except the pasta, broccoli and tuna, in a large saucepan. Bring to the boil, reduce the heat to medium and simmer, covered, for 20 minutes, then uncovered for 10 minutes.
While the sauce is cooking, cook the pasta, adding the broccoli to the pot for the last five minutes of cooking time. Drain the pasta and broccoli.
Pour the sauce into the bottom of the pasta cooking pot, mix in the tuna, return the pasta and broccoli to the pot and toss everything together until thoroughly combined.