Sicilian Style Eggplant
Serves 8 pieces
| | |
| --- | --- |
| Ingredient | Quantity |
| Rice kelp | 1 piece |
| Organic Spaghetti 500g | 160g |
| Organic Pasta Sauce - Arabiata (with chilli) | 200g |
| Mozzarella | 50g (1/2 pieces) |
| Powdered Cheese | 4 tbsp |
| Basil (for decoration) | Reasonable amount |
| Bread crumb | Reasonable amount |
| Frying oil | Reasonable amount |
| Salt | A little |
| Organic Extra Virgin Olive Oil Dolce 250ml | 2 tbsp |
Here's the ingredients you are using: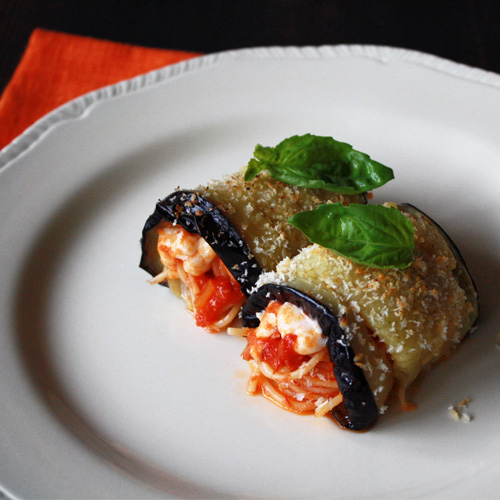 Slice the eggplant to 7mm thick and fried. (If it gets softer and you can wind up pasta OK).
Put the pasta sauce Arabiata in the saucepan, warm it, add 2 tablespoon of salt, 1 tablespoon of Extra Virgin Olive Oil Dolce, mix with boiled spaghetti, mix powdered cheese, mozzarella cut into horn.
Put 2 on the eggplant equally, and roll it, roll it, place it on a heat resistant dish, pretend bread crumbs, shake flour cheese (outside quantity) and bake until lightly baked in toaster. (About 5 minutes).
Put it on a dish, decorate the leaves of basil (even without basil).