Seafood Pasta
Serves 6 persons
| | |
| --- | --- |
| Ingredient | Quantity |
| Alce Nero Organic Spaghetti 500g (cooking time 8 min) | 500g |
| Alce Nero Organic Chunky Tomato Puree 500g | 500g |
| Alce Nero Organic Extra Virgin Olive Oil | Reasonable amount |
| Garlic, chopped | 3-4 cloves |
| Chilli Padi | 3-4 piece |
| Tomatoes | 3 piece |
| Shrimps | 200g |
| Chinese Celery | 1 pack |
| White wine | Optional |
| Water | 5 liter |
| Salt | Reasonable amount |
| Pepper | Reasonable amount |
Here's the ingredients you are using: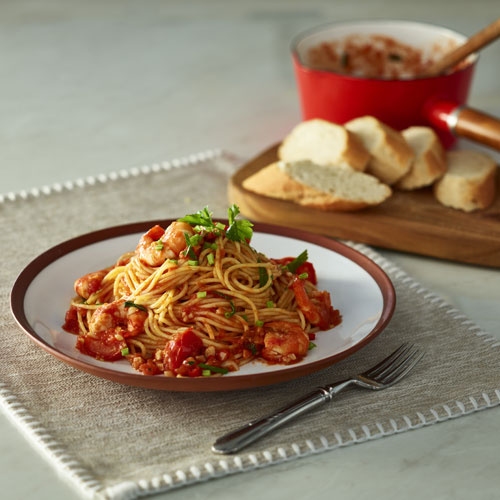 Pasta
Place a large pot of water over high heat and bring to boil. When boiling, add salt and stir. Cook pasta into the boiling water until "Al Dente" (around 5-6 minutes).
Drain pasta and keep some starchy water for the sauce. Set the pasta aside.
Sauce
Chop chilli padi and garlic. Cut the shrimps into smaller pieces.
Heat olive oil in a large pan over medium heat.
Add garlic, then chilli padi, and saute for 3 minutes.
Add shrimps, pepper and white wine (optional), and cook for 3 minutes, then set aside.
Add sliced tomatoes and tomato puree and simmer over medium-high heat for 15-20 minutes.
Add a pinch of salt if necessary.
Stir often until reduced then add back the shrimps.
Add pasta back into the pan with the sauce, then cook it for another 1-2 minutes.
Sprinkle with chinese celery, toss well, and serve hot.