Rainbow Nori Rolls
Serves 1 person
| | |
| --- | --- |
| Ingredient | Quantity |
| Purple cabbage, sliced finely | 1/4 head |
| Carrot, sliced to fine strips | 1 |
| Japanese cucumber, sliced to fine strips | 2 |
| Butterhead lettuce leaves | |
| Coriander | Handful |
| Mint leaves | Handful |
| Nori sheets | 3 |
| Peanut butter or tahini | 1 tbsp |
| Chilli powder | 1/2 tbsp |
| Alce Nero Acacia Honey | 1/2 tbsp |
| Garlic, minced finely | 1 clove |
| Alce Nero Apple Cider Vinegar | 1 tbsp |
| Water | |
Here's the ingredients you are using: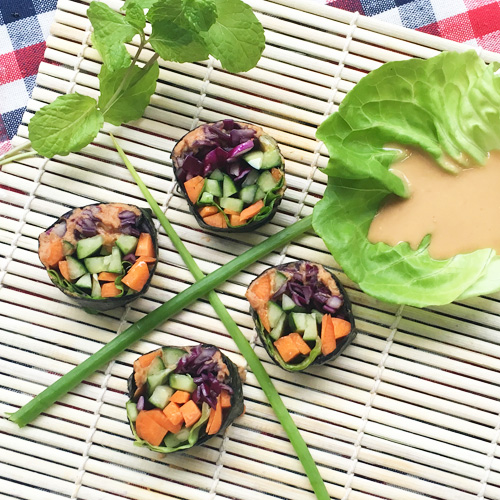 Boil pasta in a large pot of salted water for about 10 minutes.
Drain pasta and drizzle oil to prevent it from sticking. Set it aside to cool.
Heat up oil in a pan and saute the onions and garlic until fragrant.
Add in cream, eggs, cheese and salmon and bring to boil.
Switch off the fire and add cooked pasta to the creamy mixture.
Toss evenly and serve.