Porcini and Mushroom Tomato Penne
Serves 2 persons
| | |
| --- | --- |
| Ingredient | Quantity |
| Organic Whole Grain Penne 250g | 160g |
| Pasta with Organic Pasta Sauce 200g | 200g |
| Organic Extra Virgin Olive Oil Dolce 250ml | Reasonable amount |
| Ellinghi | 1 |
| Mushroom | 4 |
| Shimeji | 1/2 stock |
| Bacon | 1 sheet |
| Garlic | 1 piece |
| Onion | 1/2 piece |
| Italian parsley | Reasonable amount |
Here's the ingredients you are using: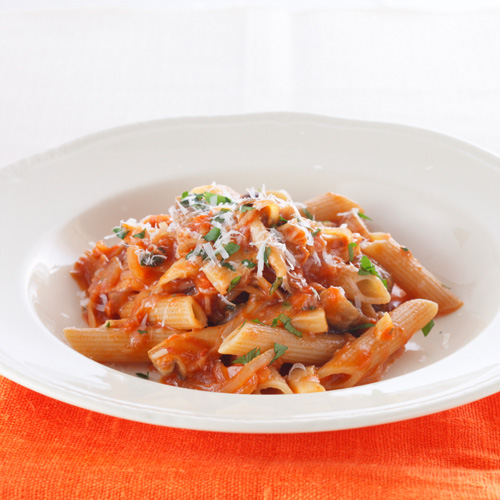 Garlic, onion and Italian parsley are chopped, the mushrooms are radially equally divided into six equal parts, and other mushrooms are easy to eat with hands.
Fry garlic, hawk and onion in olive oil in a frying pan, add fresh bacon cut in strips, stir fry, add minced mushrooms and parsley, stir fry with salt, pepper and high heat, tomato sauce with porcini. Add and cook for 3 minutes.
Paste Parmigiano cheese together with boiled pasta.