Mixed Berries Jam Muffins
Serves 2 person
| | |
| --- | --- |
| Ingredient | Quantity |
| A | |
| Caster sugar | 80g |
| Salt | 1 stps |
| Plain flour, sifted | 200g |
| Baking powder | 1 tsp |
| B | |
| Plain yoghurt | 100ml |
| Eggs, large | 2 |
| Vanilla extract | 1 tsp |
| Butter, melted | 150g |
| Filling | |
| Alce Nero Organic Mixed Berries Jam | 15 tbsp |
| For coating | |
| Caster sugar, optional | 150g |
| Muffin, mold and liners | 15pcs |
Here's the ingredients you are using: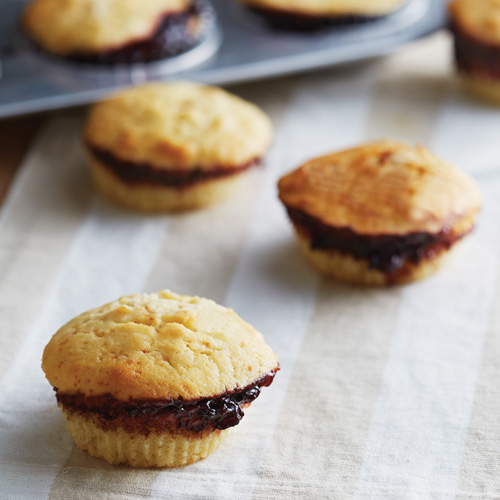 Heat the oven to 180° C.
Put A ingredients in a bowl and mix to combine.
In a seperate mixing bowl, whisk together the yoghurt, egg and vanilla extract. Pour the wet ingredients and melted butter into the dry ingredients and fold until mixed well.
Place 2 tablespoons of the batter into each muffin hole. Add 1 tablespoon of Alce Nero jam into the center of each and then cover with batter.
Place the muffins into the oven and bake for 15-20 minutes until golden brown and cooked through.
Remove from the oven and allow to cool for 5 minutes in the tin before removing and rolling in the caster sugar[optional].